Yesterday I shared a picture tour of our little boy's nursery. But because I've already received emails asking about various items and because as a thrifter I think it's fun to know where/how much people get stuff for, here is a nursery project breakdown
Young House Love style
. (If you've ever wondered about something they own, their
source list
for each room in their house is impressive!)
I'm thrifty to my core, so you won't be surprised to find that most of his room is second-hand items.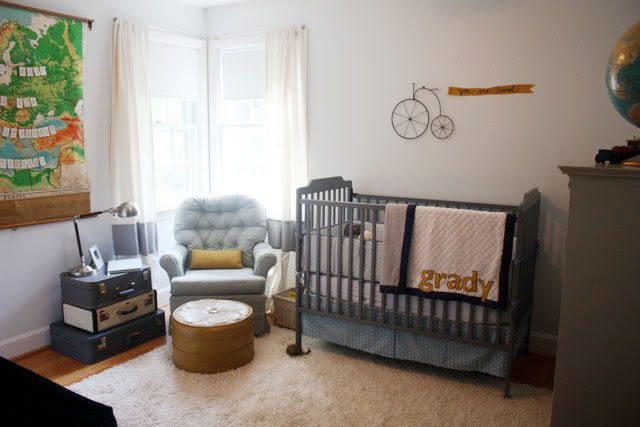 This 1930's pull down school map was gifted to me by my friend Linda.
The banner over the map reads "Grady Ford, you are our greatest adventure" and I made it using old book pages and alphabet stamps. (All supplies already owned)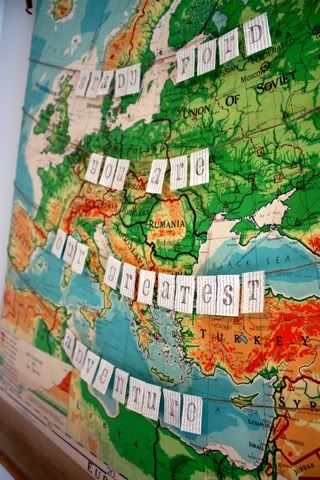 The 3 suitcases that make up the side table were all yard sale finds. ($3.25 total)
Vintage arm lamp from an estate sale ($7)
The upholstered rocking chair was found on craigslist. ($20)
Mustard yellow pillow - already owned.
The ottoman was a thrift store find. ($3)
This blue leather baby book was a gift, but can be found on
Amazon
.
Thrift store frame with Grady's ultrasound - $.50
Crib and mattress were found on craigslist. The crib is wooden but we painted it gray using paint we already owned. ($20 total) Eco-friendly, teething approved sealant added. ($11)
New Cocalo Baby bumper via ebay ($20). Find it on Amazon
here
.
New Dwell Studio crib skirt via ebay ($5)
Gifted crib sheet.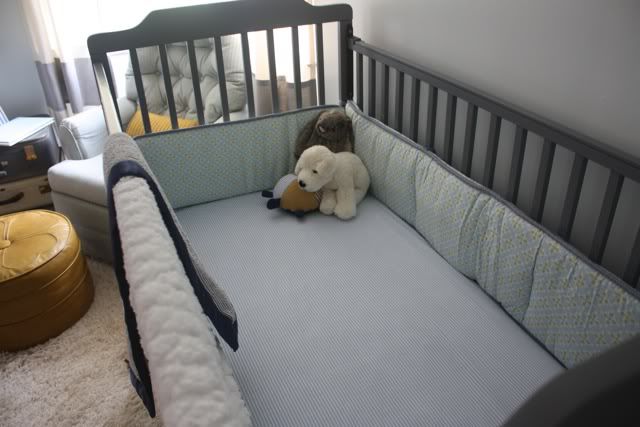 Vintage bicycle wall hanging from Goodwill ($2),
banner by me
.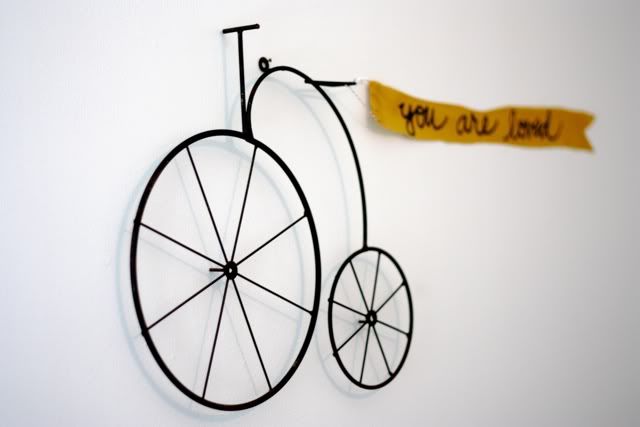 Old school chair already owned.
Cream 5x8 shag rug from a yard sale ($20 - it's new!)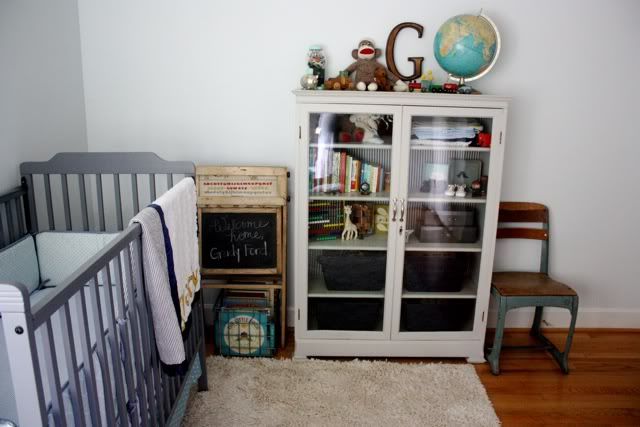 Letter G from thrift store ($2)
Globe from yard sale ($.25)
Piggy bank from Goodwill ($1)
Vintage gumball machine from yard sale ($.50)
Blue vase from yard sale ($.25) with styrofoam billy balls made by me.
Everything else was gifted.
Vintage train gifted from Auntie Megan.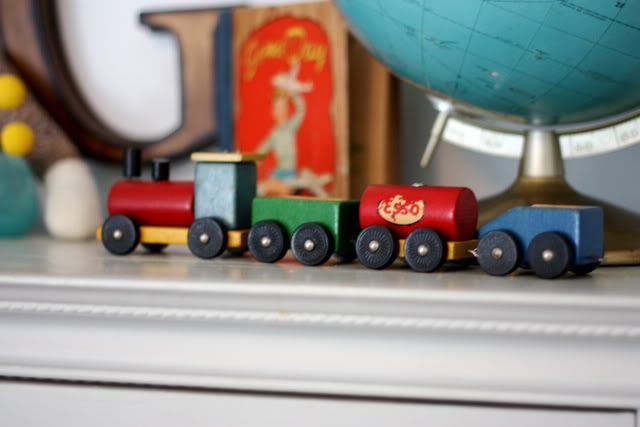 Sophie from yard sale ($.25 - don't worry I sanitized her!)
Small metal giraffe from thrift store ($1)
Abacus from Goodwill ($1)
Vintage blocks from thrift store ($2)
Bear hat from Baby Gap ($7)
Gifted shoes.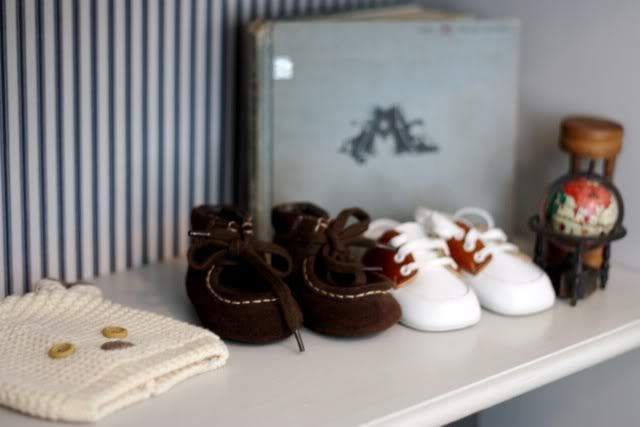 Vintage metal GI Joe from yard sale ($.50)
Vintage easel chalkboard - gifted.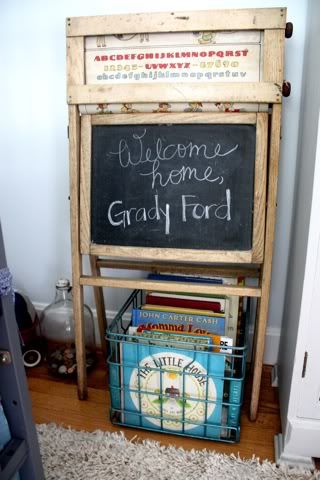 Mini Radio Flyer Wagon from a yard sale ($.50)
Homemade plush balls - gifted.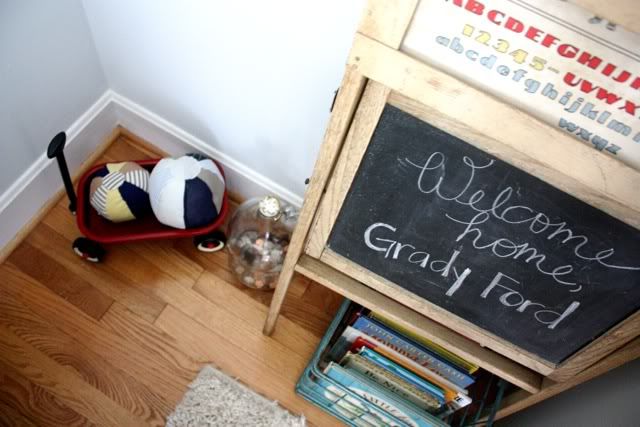 Aqua milk crate from thrift store ($1)
Lots of books from yard sales and as gifts.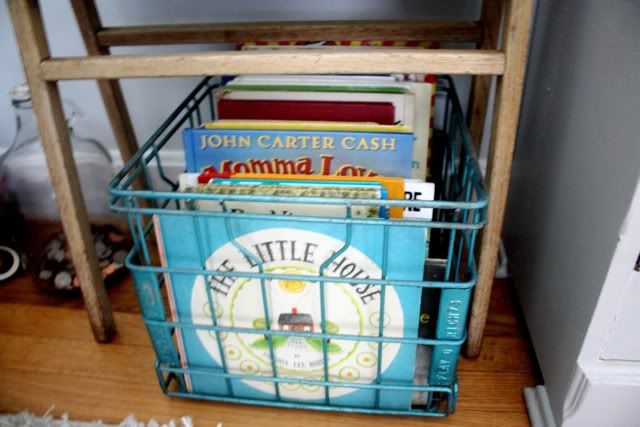 Dresser already owned. Refinished with paint already owned. Stain for top from Lowe's. ($5)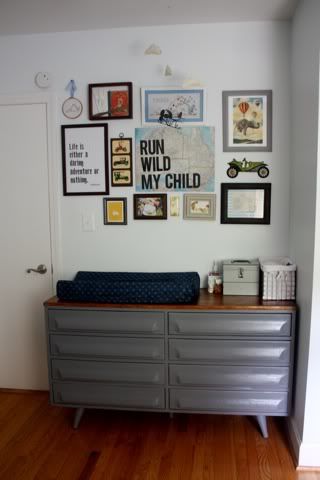 Breakdown of the collage wall art
here
.
Airplane for mobile from estate sale. ($1)
Changing pad and cover - gifted.
Vintage metal box - gifted. (I store his toiletries items in there.)
Wire basket from Crate & Barrel - gifted. (Holds diapers and wipes.)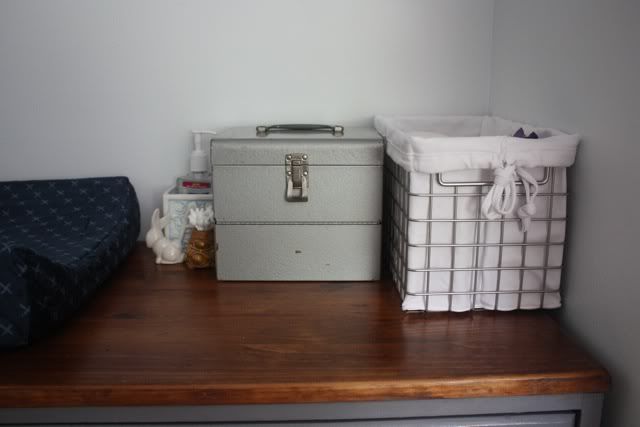 Vintage block holding hand sanitizer - gifted.
Bunny with cotton ball tail - gifted.
Turtle q-tip holder from yard sale ($.25)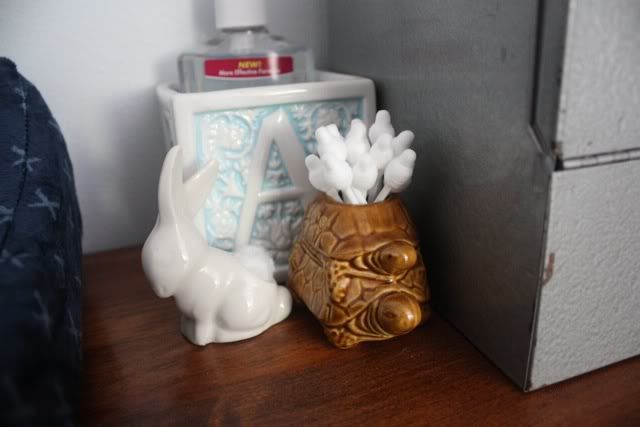 Lots of stripes, plaids and ginghams for our little man - gifted and from yard sales.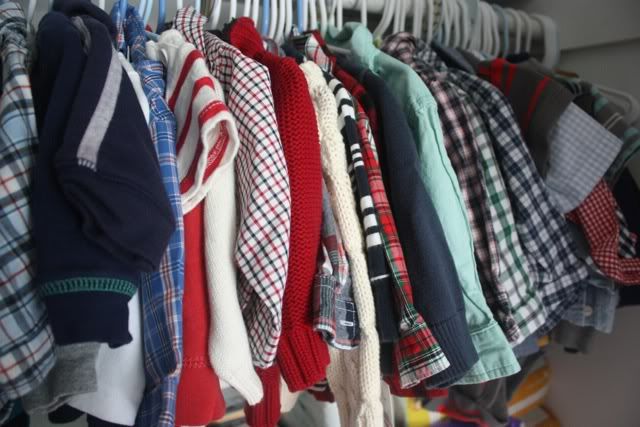 I've had a blast these past 5 months thrifting with a baby boy in mind. And I love that so many items in his room are unique finds.
It's so much fun to thrift with a specific purpose (besides just finding fun items for
my shop
)!
This obviously isn't an all-inclusive breakdown but Josh and I decided that when it was all said and done we spent less than $250 for all the furniture and accessories in his room.