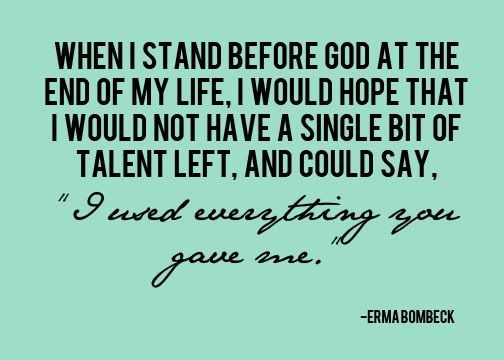 This is truly my hope. I want to use my talents as an offering to my Creator.
But lately I've been feeling stretched thin. Like I don't want to do things to the best of my ability. Like I just want to get things done and move on to the next thing I need to accomplish.
But then I saw this quote from Erma Bombeck and was reminded of why I do the things I do.
...do it all for the glory of God.
God has equipped me with special gifts and talents to be used and shared. Even when I don't feel like it.
To ignore these talents is a huge disservice. One thing that is reassuring is that the more we use our talents, the more they develop. When we share our talents and abilities, there is more potential for our talents to multiply. There is a chance that others will explore their own God-given talents.
That's the beauty of using our gifts.
Using every last bit.