I tried a new recipe. You should try it, too.
Tomatoes Stuffed with Hawaiian Chicken Salad
Serves: 4 | Prep Time: 20 mins | Total Time: 30 minutes
Ingredients
4 large tomatoes
3 C cooked, copped chicken breast
1 1/2 C diced pineapple
3/4 C chopped spinach leaves, plus 4 C whole leaves
1/2 C olive oil
1 1/2 TBS dijon mustard
2 TBS red wine vinegar
2 TSP dried thyme
salt & pepper
( I halved the recipe and just made it for Josh and I, so my proportions will look off).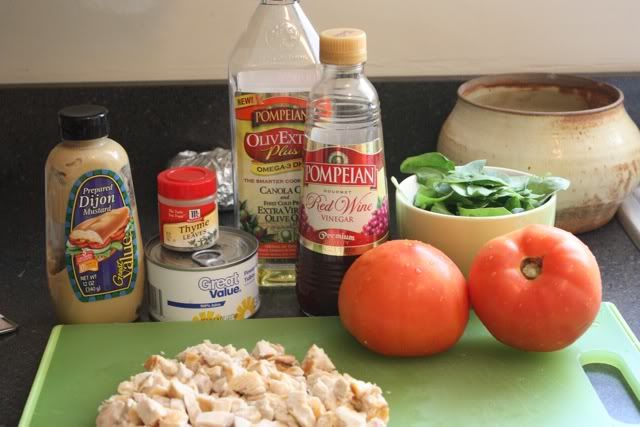 Slice the top 1/2 inch from each tomato and scoop out pulp.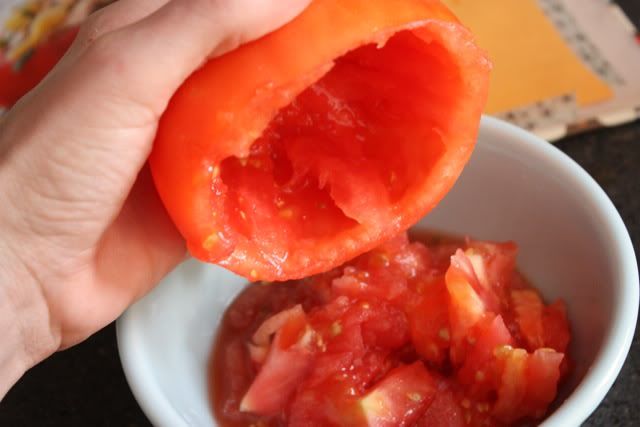 Drain tomatoes upside down on paper towels while you make the stuffing.
In a medium bowl, combine cooked chicken, pineapple, and chopped spinach.
In a small bowl, make the dressing; whisk together oil, mustard vinegar, and thyme.
Season with salt and pepper.
Pour three-quarters of the dressing over the chicken mixture; toss gently.
(My iHome got unplugged and wasn't reset, I promised I wasn't cooking at 9:18 p.m.)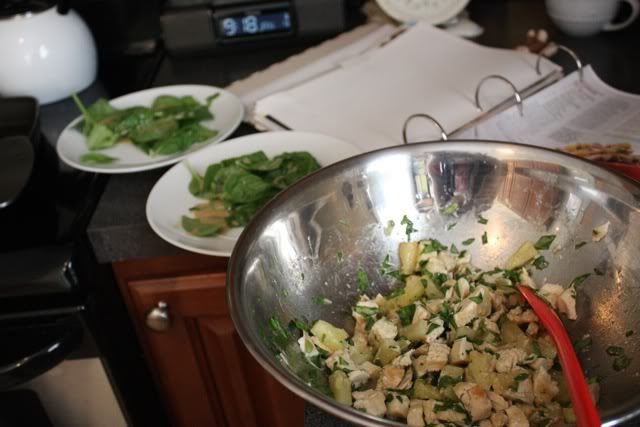 Using a large kitchen spoon, fill each tomato with approximately 1 1/3 C of the chicken mixture (if there is extra stuffing, sprinkle it over the spinach salad).
Place 1 cup of whole spinach leaves on each of four dinner plates; drizzle each portion with the remaining dressing. Place a stuffed tomato on top of each spinach salad and serve.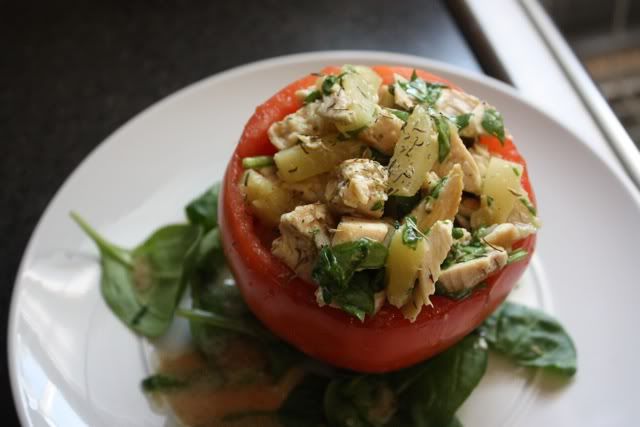 It tastes as pretty as it looks. Trust.