Three months ago, I posted a
mood board
that I created for my friend Kerry has she began the journey of creating a nursery for her baby girl.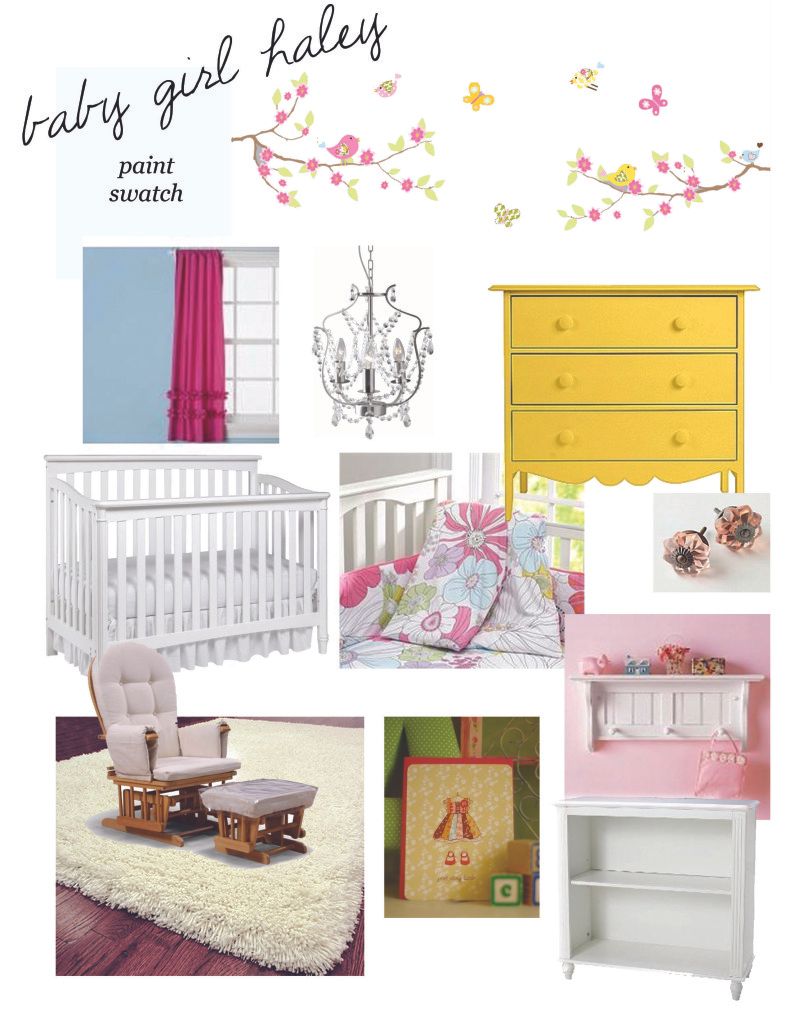 She knows I love a good reason to redecorate a room, so she indulged me and asked me to help her out.
So, over that past several months we've been working to create a beautiful room for her baby girl.
Without further ado,
Welcome to Baby Sebastiana's Nursery:
Kerry created this beautiful wreath for Ana's door and it is the first thing you see when walking into the room. I love the rosettes she made.
Kerry's inspiration piece for the room was her crib bedding. She found this set at Pottery Barn and we built the rest of the room around the colors.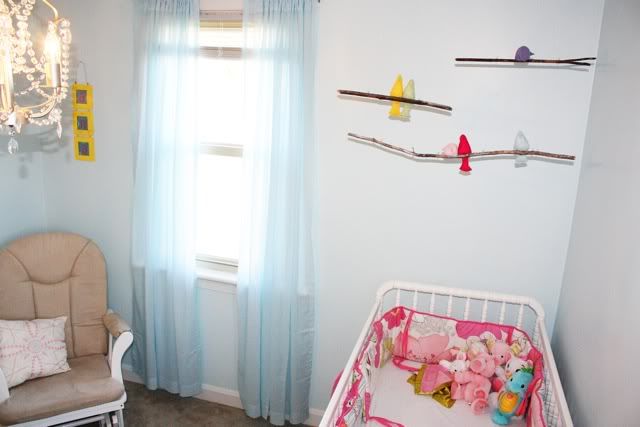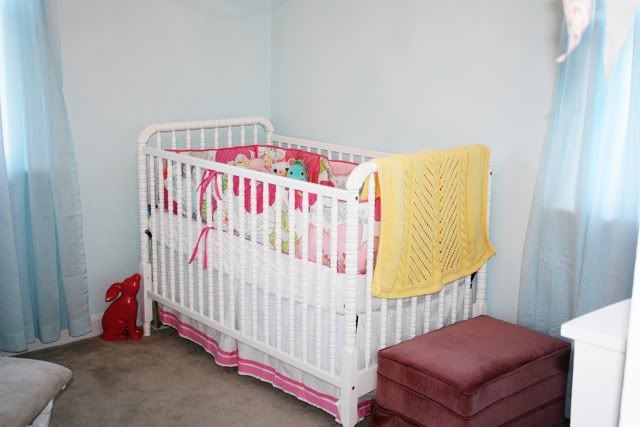 I found this bunny at a thrift store. It was plain wood, so I spray painted it pink and gifted it to Kerry.
I love the way the bunny is perched by the crib, looking up in anticipation of Ana's arrival.
This bird mobile is handmade by Kerry. She used the tutorial from
spool
and hand-sewed the birds in colors that matched the crib bedding.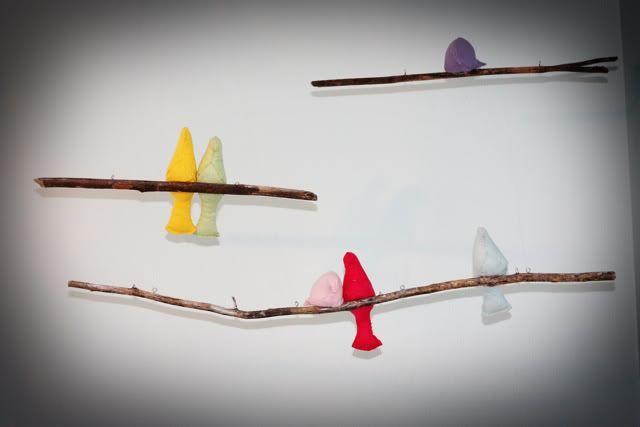 This is Kerry's favorite side of the room. It bright and colorful and holds many special items.
Behind the flowered door is a wardrobe that would make any girl jealous.
Let's just say she's going to be one well-dressed little girl.
Kerry and I had so much fun thrifting and yard saling to find items for her nursery.
Both of the shelves and the bookcase were yard sales finds, as were many of the items on the shelves.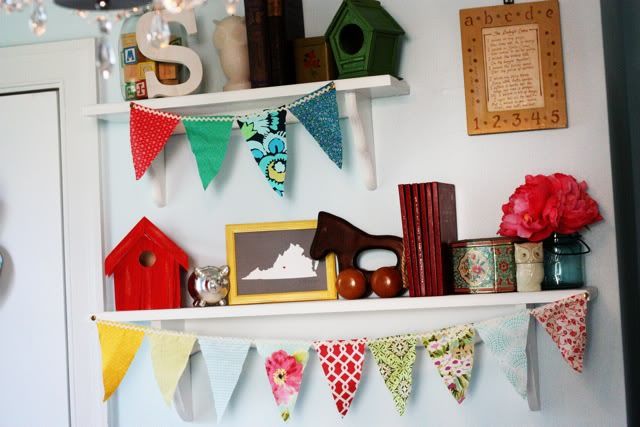 Everything pictured was either thrifted or gifted.
I made Kerry the Virginia print with a heart over Lynchburg - Sebastiana's birth place. :)
The tan frame pictured below is the "Baby's Creed" - this hung in Kerry's room as a child.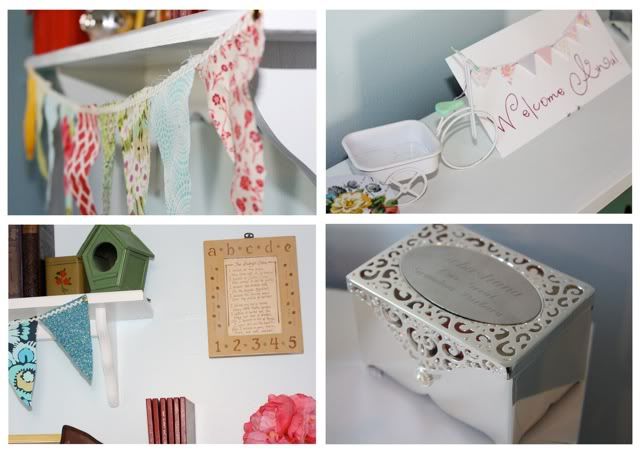 It was important to Kerry for the room to have a 'collected' look.
Many of these books Kerry has collected over the years.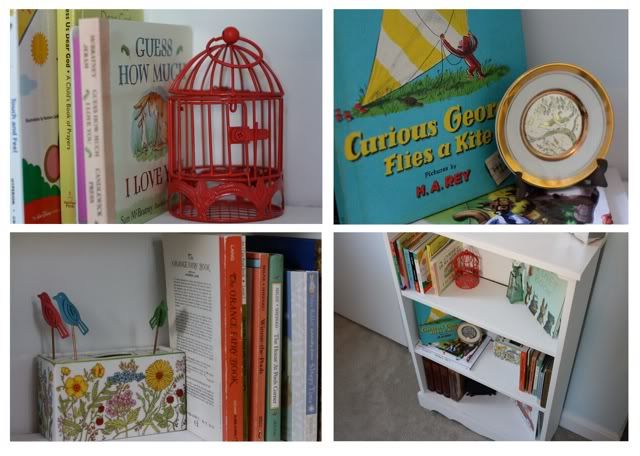 This entryway shelf was also a yard sale find. A convenient place to hang her sling and diaper bag.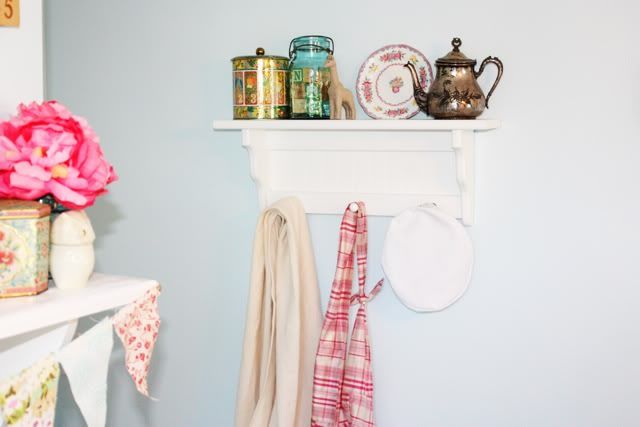 More treasured thrift store finds.
This is my favorite side of the room.
I love this collage wall for the sheer fact that each piece is so unique.
And that I was with Kerry when she got almost every piece!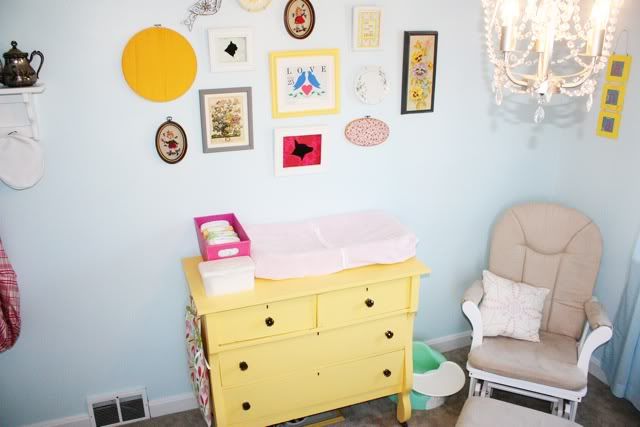 L to R: Fabric hoop from yard sale. Embroidered print from yard sale. Metal scrolled bird from Salvation Army. Silhouette of Patrick (Kerry's cat) made by me (idea from
young house love
). Vintage floral print from Goodwill. Vintage yellow plate from Estate Specialties. Matching embroidered print from yard sale. Love bird stamp from yard sale. Silhouette of Foxy (Kerry's dog) made by me. Fabric hoop from yard sale. Vintage plate gifted from a friend. Katie Daisy "You are my sunshine" print gifted from me. Vintage floral print from Salvation Army. Grand total = $10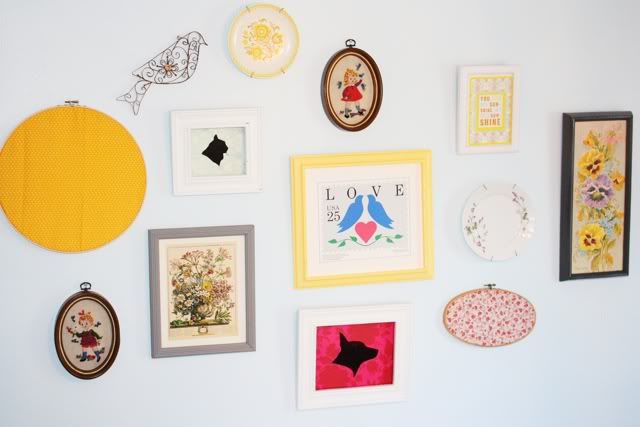 This vintage dresser was a curbside find (free!). It was in terrible condition but Kerry stripped, sanded and painted it back to life. The glass knobs she added are perfect.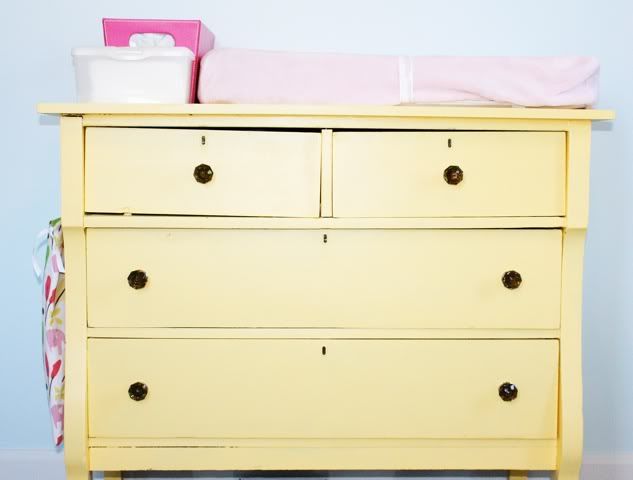 The dresser will double as a changing table.
Kerry is doing cloth diapering. Her wetbag was made by
Orion and Wren
.
And that concludes the nursery tour.
Did that mood board come to life or what?!
While I was there taking photos, Kerry did a little inventory and totaling:
The only brand new items are the crib/mattress/bedding and the glider,which were gifted, and the chandelier! She estimated that she only spent around $75 out of pocket to decorate this nursery - over half of this total belongs to the chandelier alone!
Kerry, thanks for allowing me to help you create this beautiful room for Sebastiana. You did a lovely job. The only thing missing now is the baby!