I know summertime inevitably flies by when you're in school, but I thought it might seem to stay a little longer when the seasons don't effect my life so dramatically. But alas, I blinked and now the summer is pretty much over.
I have been getting a little giddy thinking about cardigans, plaid, and my favorite boots. I found a beautiful vintage plaid shirt the other day at goodwill and I believe it was the catalyst.
Choosing a first-day-of-school outfit was always the silver lining in the gray, looming cloud of going back to school for me. It started in highschool, but even in college, I used to love the way I walked a little taller on that first day of the semester, wearing the outfit I had meticulously chosen.
I have to laugh thinking back to freshman year of college, where I'm pretty sure my first-day-of-school outfit included a pink poncho quite similar to this:
Yeah, those were a hot item in 2004.
So, even though I'm not going back to school, I thought I'd bring back the joy and dream up a first day of fall outfit. First day of fall = Friday, September 23.
Here's what I'm putting together from (similar) items I already have in my wardrobe: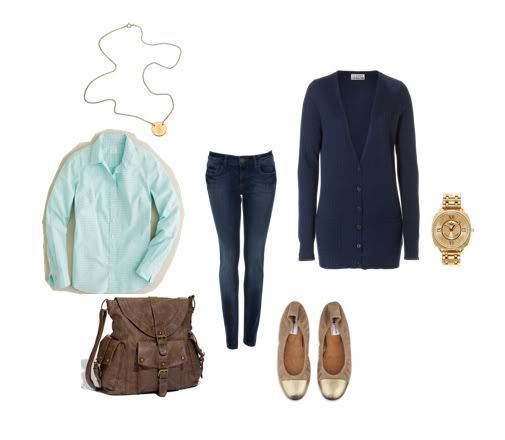 Anyone else miss those first-day-of-school outfits?