One thing I struggle with when meal planning is figuring out how to use up all of an ingredient without making the same meal twice. I hate when I let a product expire or go to waste - it just feels wrong.
A great resource I use for getting ideas for things to try and new recipes is the
Everyday with Rachael Ray
magazine. In each magazine, she includes a week of meals that repeat the same ingredients in order to use them all up. Typically, one or more of the meals is not my cup of tea, so the idea is wasted on me. But this month's week of meals was spot on for things we like to eat.
Maybe it is for you, too.
Chicken with Apples, Raisins, & Olives ~ Crispy Fish with Creamed Corn ~ Mushroom Fusilli ~Sausage Rolls and Spinach Salad ~Spinach & Ricotta Quiche

If you'd like to make this week of 'use it up' meals, here's what you'll need:

Shopping List
Produce
1 large apple (such as gala or cortland)
1 lemon
8 ears of corn*
2 red bell peppers
2 beefsteak tomatoes
1 package of baby spinach
1 head of garlic
1 package (10 oz.) mushrooms
1 bunch flat-leaf parsley
Dairy
1 pt. heavy cream
1 stick unsalted butter
1 container (15 oz.) ricotta cheese
1/2 dozen eggs
Fish
4 tilapia fillets
Meat
1 lb. italian sausage links
1 1/2 lbs. skinless, boneless chicken thighs*
Bakery
1 small loaf of crusty bread*
Grocery
1 jar grainy mustard
1 box fusilli pasta
1 box garlic and olive oil couscous
ground cinnamon
1 bag of raisins
1 pkg. frozen puff pastry
2 oz. green olives*

*Because I wanted to use what I already had - I used frozen corn instead of fresh, I used chicken breasts instead of thighs, I crushed a bag of croutons instead of making breadcrumbs, and I nixed the olives.

Day 1: Chicken with Apples, Raisins & Olives
Serves 4 | 15 min prep | 15 min cook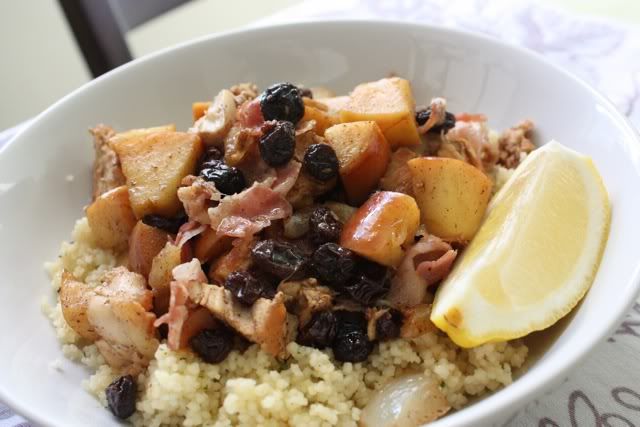 Ingredients:
2 tbsp butter
1 tbsp evoo
1 1/2 lbs. skinless, boneless chicken
1 large apple cut into 1/2 inch cubes
1/3 C raisins
1/2 tsp ground cinnamon
1/3 C large green olives, pitted and chopped
1 box garlic and olive oil couscous
1/2 lemon, cut into wedges (save the rest for later!)
*Since I nixed the olives, I added onions and prosciutto instead.
Directions: 1) In a large skillet, melt the butter in the evoo over med-high heat. Season the chicken with salt and pepper, add to the pan and cook, turning once, until golden-brown and just firm to the touch, 8 minutes. Transfer to a plate and cover with foil. 2) Add the apple, raisins, (& onions if you choose) and cinnamon to the skillet with 1/3 C water and scrape up the browned bits; season with salt and pepper. Cover and cook over medium heat until the apple is tender, about 5 minutes. Cut the chicken into chunks and stir into the mixture with any chicken juices. Stir in the olives and remove from heat. 3) Meanwhile, prepare the couscous according to package directions. Spoon onto plates, top with the chicken mixture and serve with lemon wedges.
Enjoy!
Here's a glimpse of what's to come: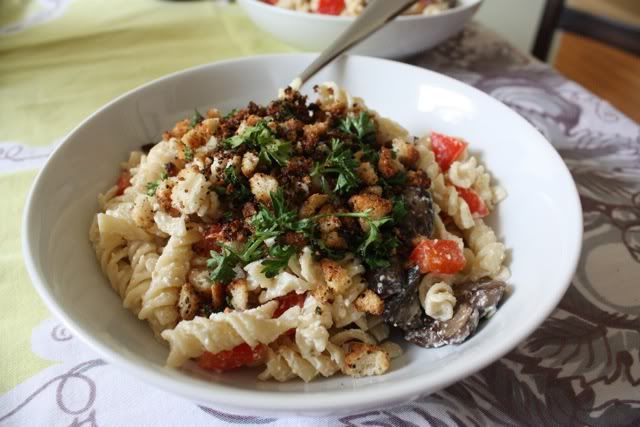 Believe me, I couldn't believe that the food looked as good as it tasted.
Join me this week for some great recipes!